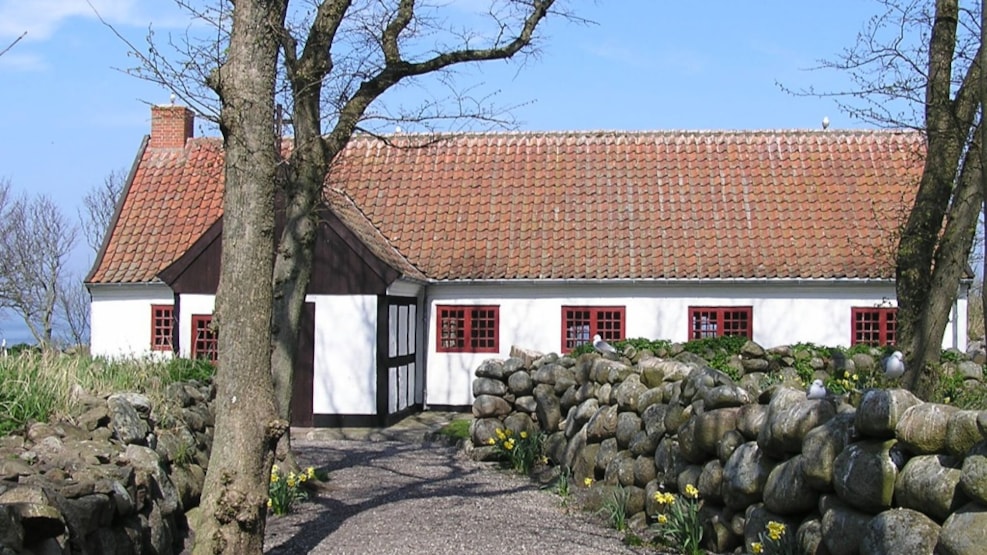 Hirsholmene Kirke
Hirsholmene Kirke dates from 1641 and is one of Denmark's smallest churches.
Previously, the islanders had to go to Elling Kirke, but when it appeared that children died without baptism and that bodies could lie for up to 5 weeks before they were buried, a parish call was set up on the island.
The nobleman Otto Skeel built the church, which was erected in timber-framed oak posts. Later, however, it became the foundation wall and the porch was added. There is no evidence that the whitewashed half-timbered house is a church, as the bell stack stands in the middle of the island. Only the old tombstones and iron crosses tell you what it is like for a house.
Ship and choir are built together without any visible separation. The ship is low-ceilinged with a solid beam ceiling. The church room is believed to have remained unchanged since church construction.
The altarpiece originates from the Flade Kirke and is a scapegoat from around 1500, with the Grace Father flanked by Saint Laurent and Saint Catherine in the middle and the 12 apostles distributed in the two wings on the altarpiece.
It is believed that the pulpit is made especially for the church, as its ornaments are similar to the altarpiece in Elling Kirke. The pulpit has winding baroque-style columns and is now partially gilded in the ornamentation. The fillings both above and below are small scriptures.
The chairs are believed to be as old, or even older than the church. It is believed that they are originally from Hundslund Klosterkirke (Dronninglund). However, they also fit so well that they may be specially made for the church.
Now Hirsholmene belongs to Frederikshavn Parish, and a church boat leaves for worship on the island a few times a year - preferably in the summer.