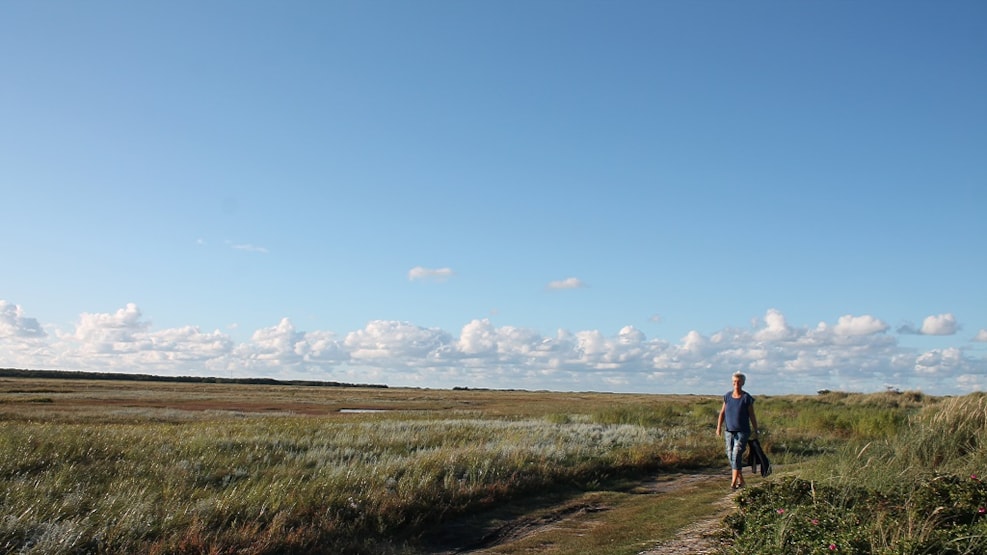 Hiking route Læsø - Bløden Hale around - 3.5 km
At the very end of Danzigmannvejen - at the far end - is Bløden Hale. The newest country in Denmark, and one of the places where Læsø grows. Here, sea, heath and beach meet, and a walk Bløden Hale around about 3.5 km is a favorite way to get fresh air for both body and soul.
The entire eastern end of Læsø with Jegens, Syrodde, Danzigmann - or Danzigmand, as it is also called - and Bløden Hale is a completely unique area to move in. Here is heath, beach and dunes, and especially the outer landscape at Bløden Hale is only a few hundred years old.
One way or the other around
At the very end of the gravel road, which winds through the area that has grown over the last few hundred years, is a parking lot where the road ends. Here, many choose to begin the trip around Bløden Hale. Depending on the weather, you can walk one way or the other. The trip is about 3.5 kilometers. After a strong storm, there are good opportunities to find amber on the entire east coast of Læsø, and Bløden Hale is also a target for those with sharp eyes.
A favorite bird spot
The whole area around Bløden Hale with the two so-called barrier islands Store and Lille Knot and Bovet to the west is a favorite place for ornithologists and bird lovers. The large areas and tranquility of the area provide good conditions for a fantastic bird life.
Here you can experience the cuckoo, the great crested grebe, beach damage and many others - also waterfowl