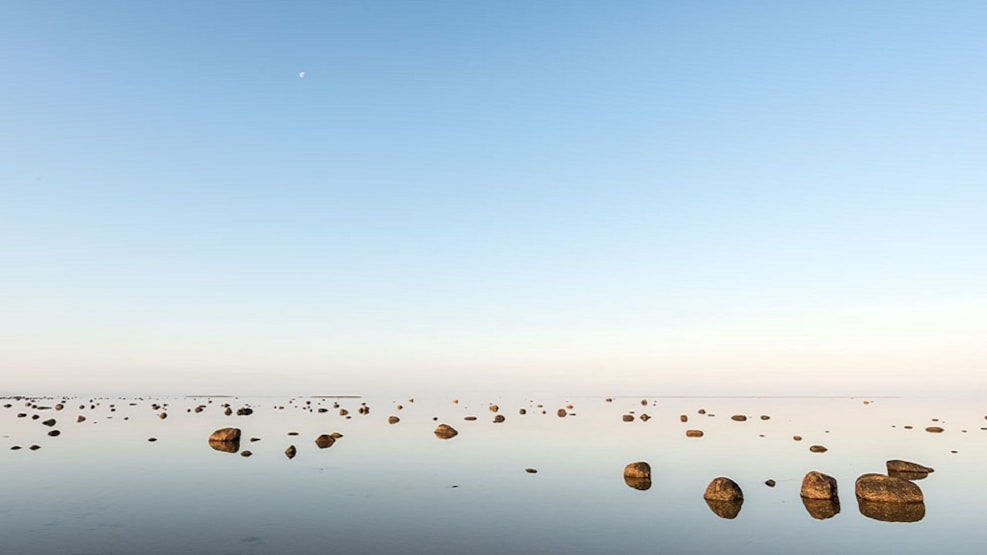 Hiking route Læsø - Around Hornfiskrøn on Rønnerne south of Læsø Saltsyderi, 12 km
The trip around Hornfiskrøn is an opportunity to make a fantastic full day trip out through a very special area on Læsø; Rønnerne, one of Denmark's largest wetlands with a unique flora and fauna, great bird richness, giant rocks, forest and water.
The hiking route is about 12 km - very dependent on water level and detours beyond Rønnerne.
Rønnerne is one of Denmark's largest and most fascinating areas. This is where Læsø gets bigger, this is where Læsø Saltsyderi gets its salty groundwater, and this is where you can experience the true virgin land, as it is called in the very beautiful book by Jens H. Petersen about Rønnerne. The whole area covers up to 9,000 hectares, of which the 1,741 are protected area with a rich bird life and a unique flora and fauna.
A good distance out on Rønnerne is a kind of island, Hornfiskrøn. The word "Røn" means a stone plot or a small uninhabited islet. There are four major ridges: Faroe Islands, Kringelrøn and Langerøn, which are separated by narrow tidal channels, and then the one to be rounded on this route; Hornfish green. Sometimes you have to cross a shallow area to get there, but often it is completely dry.
The hiking route Hornfiskrøn around is about 12 kilometers. It is difficult to hit precisely because the area changes character according to the weather and the season. And in dry periods you can get around everywhere, and if there is water, in some places you have to cut a corner or take a detour. Part of the charm ...
A good offer for a wonderful day trip ...
Potentially, Hornfiskrøn is around a day trip, although it can be done in 4-5 hours. Lace up sensible footwear, remember the sunscreen in the summer and pack a backpack with a little of each for a day trip; sensible clothing, a solid packed lunch, snacks, drinks, petrol for any children brought along and a garbage bag so that one of the most important pieces of advice can be kept when we travel in nature; leave only your footprints!
Many stones - and BIG stones ...
The trip around Hornfiskrøn offers several exciting experiences, ranging from some of the largest rocks in Denmark over a completely unique flora and fauna to an almost priceless view of the magnificent landscape.
On the way out to Hornfiskrøn you pass, among other things, Pigestenen, which is said to have saved some girls on an excursion from a raging bull ... Here, however, are a couple of peaceful horses who keep a little rest in good company with their riders at Pigestenen.
On Hornfiskrøn itself there is only a single house, a hunting lodge, which Læsø's hunters use diligently on trips beyond Rønnerne, and then there is a nice big pine forest, which must be rounded on the trip, and here many choose to take a bigger break. In the south-western corner of Hornfiskrøn lies a large stone reef, and one of the stones protruding is known as the Tomb of the Englishman; it looks like a stone dolmen with a large rock on top of a few smaller ones. Legend has it that there is an Englishman buried underneath ...
On the way home you can appropriately try to spot both orchids and maybe a tuft with the famous yellow ant ...
Good trip!