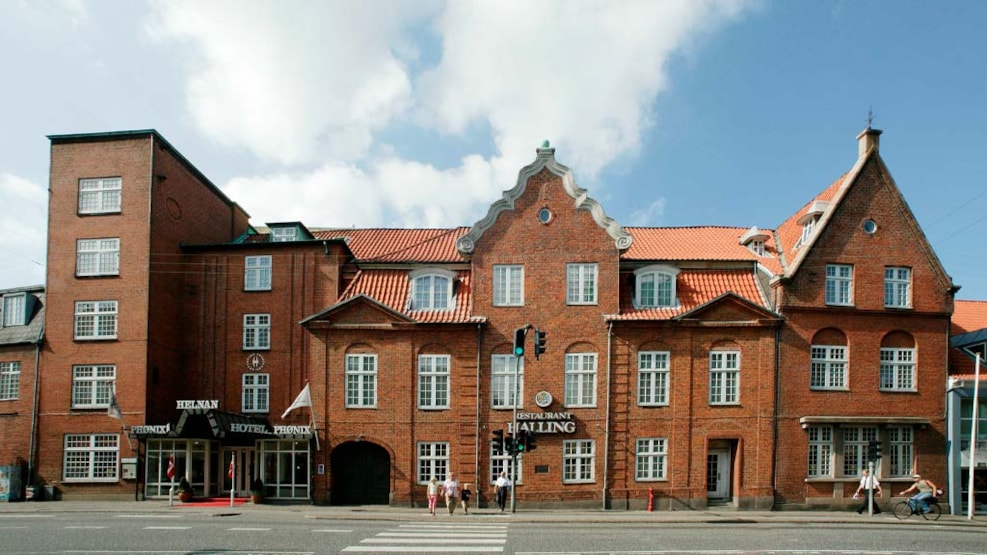 Helnan Phønix Hotel - Venue
Centrally located in Aalborg is Helnan Phønix Hotel, one of the city's oldest hotels. The hotel was built in the 18th century and has been carefully renovated in an attempt to respect the history of the hotel's origin
Helnan Phønix Hotel is a historic hotel, decorated in a classic style that portrays the hotel's construction around the 18th century. The sophisticated interior creates a warm and welcoming atmosphere, giving you a feeling of being "home away from home". The hotel is located within walking distance from Aalborg Kongres & Kultur Center and the vibrant centre of Aalborg.
Conference and meeting facilities
At Helnan Phønix Hotel there are 13 flexible conference and meeting rooms that can accommodate a total of 330 people. In all the rooms you can find modern AV equipment, and if you have special requirements for equipment, the hotel is able to help you.
Rooms
With 220 rooms, the hotel is not only one of Aalborg's oldest hotels, it is also one of the largest. The rooms are well-maintained and decorated in the classic style, giving a warm and welcoming feeling. The hotel offers both single and double rooms as well as suites, all with TV, telephone, and Wi-Fi. Room service is available.
Other facilities 
If the conference program allows it, it is possible for you to exercise in the hotel's gym, which is open every day from 6:00-23:00. Guests staying at the hotel are free to utilise both facilities.
Parking is available in the hotel's parking lot, which has a wheelchair-friendly elevator.
Sustainability at Helnan Phønix Hotel
At Helnan Phønix Hotel cares about the environment. Therefore, they focus on minimising the negative impact of their business activities on the environment. For instance, the hotel has removed mini bars from several rooms, as they use too much unnecessary electricity.