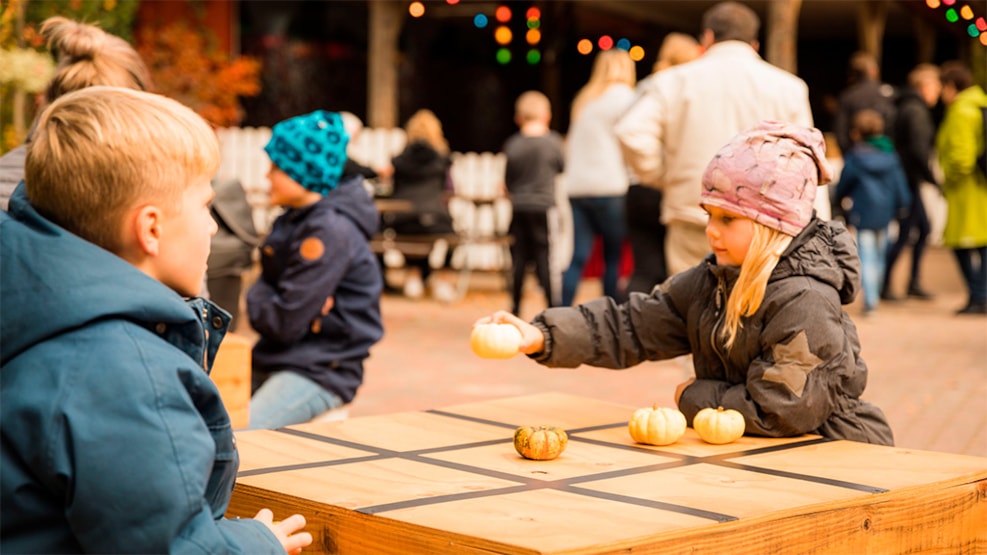 Harvest Festival in Fårup Sommerland
Visit Fårup Sommerland in the autumn holidays 2023 and reap a lot of fantastic memories!
As usual, Fårup Sommerland is transformed into Denmark's coziest Autumn Festival in week 42, where you can also experience 'Lysfall', where the park and forest are lit up by thousands of beautiful lights.
Harvest Festival in Fårup Sommerland
Harvest Festival at Fårup is totally unique. The forest is dressed up in warm autumn colours, andon all days you can experience an abundance of exciting activities. Take on the whole family in agame of turnip-rooted celery bowling, pumpkin Tic Tac Toe, or go exploring in the huge straw bale labyrinth.
Bonfires will also be lit here and there throughout the park where you can just sit and keep warmor enjoy some popcorn.
Go exploring the light
Come and experience the fantastic new light show at the Orkansøen (Hurricane Lake), which startsevery 15 minutes after 18:30, the pumpkins jumping around onthe portal to the Den ForheksedeSkov (Enchanted Forest), get your picture lit up on our Instagram wall or just enjoy the big bonfirebeneath the glow of the light chains at Egern og Pindsvins Høstmarked (the Squirrel and theHedgehog's Harvest Market).
When darkness falls...
... the light breaks through at Fårup–and we turn up the magic, the storytelling and the specialeffects. The forest, the attractions and Fårup will shine like you have never seen them before!
An autumn full of wonderful experiences in Fårup Sommerland! Come to the Harvest FestivalDenmark's most fun-filled Harvest Festival and when the sun goes down, the light breaks throughto reveal Lysfald Fårup – a magical journey in light and sound!
Indulge yourself in the unique autumn atmosphere at Denmark's most fun-filled Harvest Festival at Fårup Sommerland