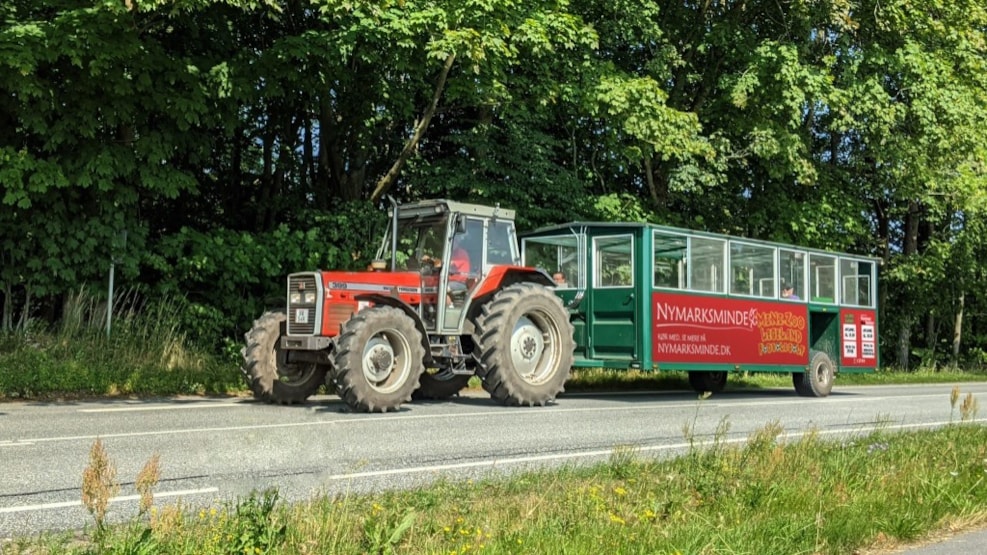 Guided tour in Hammer Bakker
A nice trip for those interested in the local history. The trip goes through the beautiful forest area in Hammer Bakker, where passengers sit comfortably in the tour cart behind the Nymarksminde tractor. The tour is run on days when Nymarksminde Farmpark is open - and otherwise by appointment if the entire tour cart is reserved.
The guided tour is in Danish, English and German.
A trip to forest and villages
Nymarksminde in Vodskov arranges guided tours in Hammer Bakker. Here you can hear about lawyer A. Olesen and his influence on developments in the area. It is an exciting trip through the forest area and the small towns Vodskov, Grindsted and Uggerhalne. You will see Vodskov Church, visit the twin mounds, hear about the "crazy institution", which became the School in Hammer Bakker, and much, much more. There is something for everyone interested in history - big and small. The trip lasts just under 60 minutes and is guided via a speaker system in the carriage. The carriage has windows that can be closed if it rains.
A group event with barbecue and guided tour
There is also the opportunity for team building at Nymarksminde. The farm offers a longer trip and events lasting around four hours. Here the Hammer Bakker tour ends with group activities by the lake of Nymarksminde. Finally, dinner from the grill is served in the beautiful landscape, watching red deer and the sunset. It is definitely a great opportunity for team building. Contact Nymarksminde to hear more.