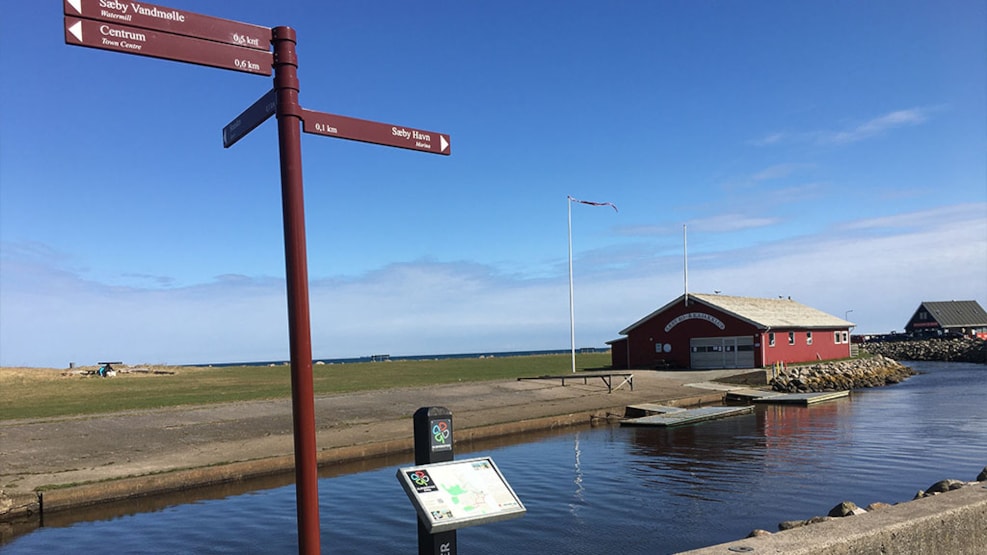 Green Route
Kløverstierne is a national path concept that offers rich opportunities to walk, bike or run a measured and marked route while obtaining many good experiences.
A kløversti consists of four routes that all start at a centrally placed Kløversti pole. In Sæby, it is placed on Sæby harbour by the bridge over Sæby stream.
The Kløversti can also be found on your mobile phone via Endomondo.
Green Route – 2.5 km
This is a pleasant short walk or run from the harbour along the boardwalk, via suburban streets past the roaring weir at Sæby watermill and back to the harbour through the oldest district in Sæby.
If you would like, take a rest in Sæby Church under the magnificent murals from the monastery time.
The City by the Ocean and the hurled Stream
In Algade, that follows the curves of the stream, the great merchant's houses lie close to each other, while Strandgade has been the fishermen's district for centuries. Pay attention to the many historical buildings along the hike:
- Sæby Museum, Konsul Ørums Gaard, year 1600-1700 (Algade 1).
- Clasens Gård 1750 (Algade 3). Former Clasens Hotel, where authors and artists, for instance Herman Bang and Gustav Wied, spend the summers of the 1890s by partying in the garden by the stream.
- Adda Ravnkilde's house, 1840. Author 1862-83 (Algade 7).
- Hans Grams Gård, 1624 (Algade 12)
- "For Retfærdigheden" (For Justice). City hall and Courthouse, 1848 (Algade 14). Now tourist office and community centre.
- The Old City Hall, 1801, Klostertorvet.
- Juels Hospital Fattigstiftelse 1565 (Strandgade 2).
Map of the Green Route