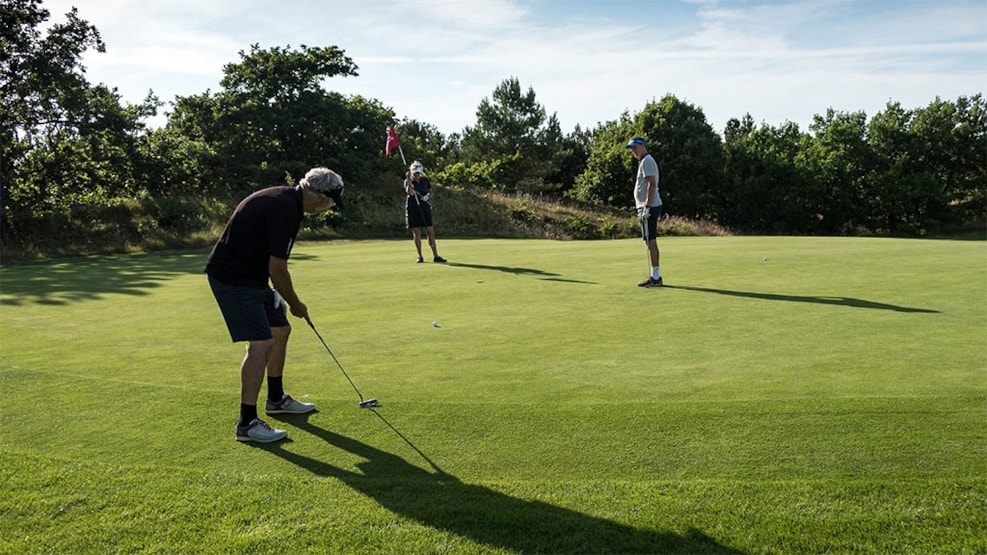 Golf Hvide Klit
When you want to play golf on your holiday in Skagen, go to the Golf Club Hvide Klit. Walk the 18 holes of the beautiful dune landscape, which sneaks through nature. There is also a pay and play course where membership is not required.
The course, located in Bunken Klitplantage, close to the Råbjerg Mile and Kattegat and just 17 km south of Skagen, is a so-called 'Heathland' golf course. In Danish, this means that it lies in a sandy plantation area with lots of forest fires and large (sandy) areas with heather, which both flank the fairways and which provide a nice contrast to the green areas.
The track is relatively flat and, on some holes, also relatively open. It can easily be walked around, and the sandy soil conditions allow the course to be played most of the year.
The layout is recognized for being extremely exciting and among the best in Denmark. On many of the holes, the difficulty is at the very top. The fairways are narrow and beautifully framed by dunes with wild mare straw.
Over the past few years, the golf course has undergone major changes. Not only in terms of layout, but also in terms of quality. White dune has been lifted and improved, so that today it radiates over the northern Jutland landscape.
Fairways, greens and bunkers are today a championship course worthy and of such high quality that the course has been called one of Denmark's best.