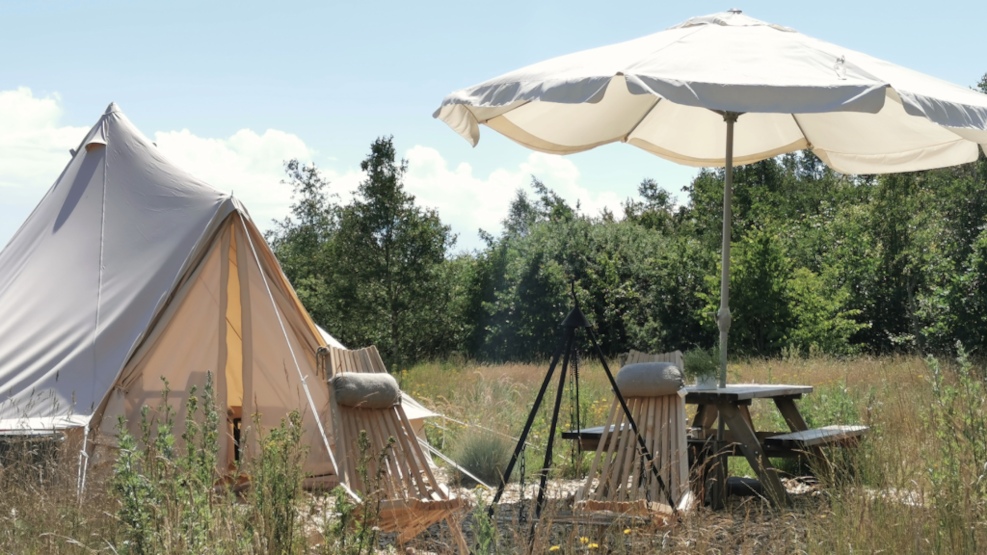 Glamping Skovgaardsminde
Sleeping in the open and luxury is not immediately something you would connect with each other but at Glamping Skovgaardsminde, located by the East Coast, that is exactly the combination you can look forward to.
The word glamping is a contraction of ´glamorous camping´ and that is what you will experience when you visit Glamping Skovgaardsminde. Here you can experience a glamorous and idyllic version of nature and say goodbye to the overly thin sleeping bag, the bumpy mat, and the small two-person tent. 
When you arrive, you will see a pre-pitched luxury high-ceilinged tent. Inside the tent, you will find two beds made with lovely duvets, a minibar with cold refreshments, and cozy details that help provide the full experience of glamorous camping. As a part of your stay at Glamping Skovgaardsminde, you will receive a delicious, organic breakfast basket, every day.  
The extra details 
Outside on the pitch, it oozes camping extravagance. Each camp does not ´only´ consist of a tent but also an individual fireplace where you can make your own gourmet, armchairs for relaxation, a table bench set, and not least a private camping toilet. The outside showers are shared with the other guests. The wood for the fireplace is, of course, pre-chopped and ready for you. 
Aside from offering lavish overnight accommodation in nature, Glamping Skovgaardsminde offers a range of additional purchases that can make your experience even more such as bike rental and SUP boards. 
Sustainability all the way
At Glamping Skovgaardsminde, sustainability is a top priority and that is why you can look forward to a vacation with a clear conscience. The tents are powerless so that you can unplug and enjoy the relaxing nature surrounding you, both the breakfast and the minibar consist of local and organic ingredients, and the electricity is solar-powered. 
360 degrees of idyll 
Glamping Skovgaardsminde has 4 tents, which can fit 2-4 people in each. They are all placed on an idyllic, open meadow, which is surrounded by a forest reserve and has a view of Skovgaardsminde, a lovely old estate from 1867. The campsite is located close to lovely experiences in Danish nature. 
Only 50 meters from the meadow, you can find both The Marguerite route and The North Sea Trail, which will either bring you up north through Hou forest or down south along the eastern coast to Hals. Meanwhile, the nearest beach is 2 kilometers away. That is why Glamping Skovgaardsminde recommends the following: renting a bike and going on an adventure through the beautiful nature, spending the afternoon by the beach and swimming, and then ending the day with a peaceful moment around the crackling fire. 
Read more about Glamping Skovgaardsminde