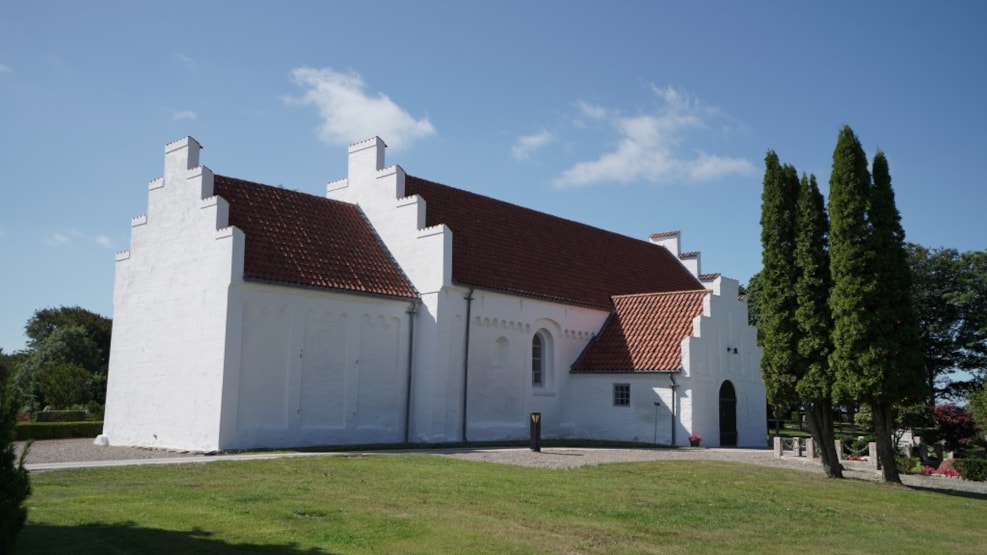 Flade Kirke
Flade Kirke is Frederikshavn's oldest and was the only one at Fladstrand until Fladstrand Kirke was built in 1688-90.
The church is a younger Romanesque brick church and thus belongs to the group of brick churches in Vendsyssel.
The church is located in Flade Bakker, 105 m above sea level, and has been used as a sea mark. Chairs and pulpits are decorated with flat sectional decorations. In the cemetery are some burial mounds, the bell stack stands on one of them. If you climb up one of the burial mounds you have a beautiful view of most of Vendsyssel.
The church, as an unofficial landmark, is lit in the evening. If you drive to Frederikshavn along Brønderslevvej, you can enjoy the view of the church in addition to the most beautiful view of the city and the sea as you drive down Brønderslevvej.
The church has been restored and has been rebuilt several times. The ship has been extended and a porch has been built, just as two side ships have been added. One side ship is now in use as a funeral chapel.
The pulpit from 1588 was donated by Mogens Juel to Knivholt, whose father, Mogens Juel is seen on the tombstone in the choir. The pulpit is made in the Renaissance style and displays depictions of Christ's suffering story. In the chair you will also find two weapons carved, it is the fathers and mothers weapons for Mogens Juel who donated the pulpit to the church. After a restoration in 1957, the pulpit now stands in unpainted oak. It was found that the colors used were not appropriate and therefore the paint was removed completely.
Fladbjerg Cemetery with chapel is located directly opposite Flade Kirke, it is the newest cemetery in Frederikshavn.