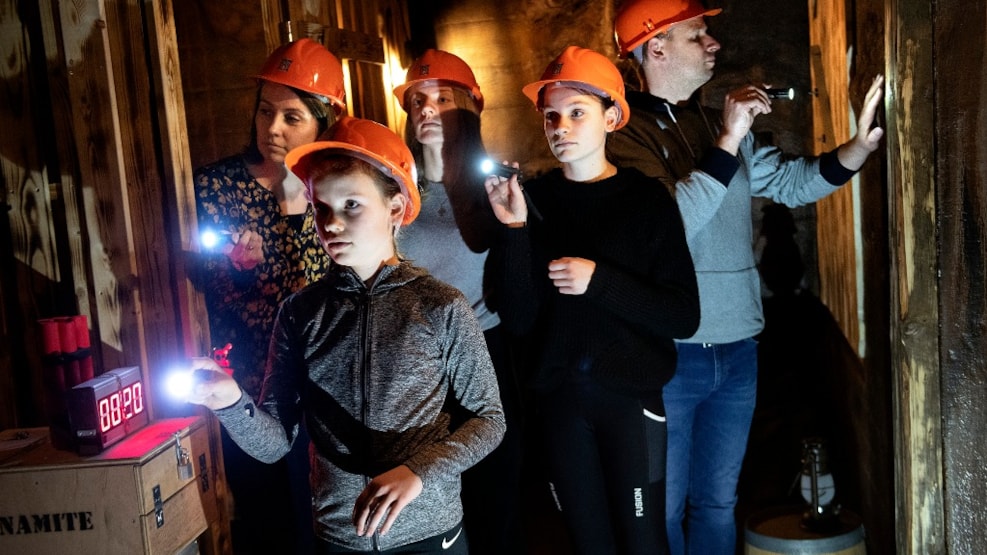 Escape Skagen
Deep underground in the old commando bunker, you will experience a completely different time and world.
An hour of fun and learning together with family and friends. A place filled with surprises and excitement beneath the ground. Look forward to an underground experience.
Or you can take an exciting trip around the city while solving tasks using the Ipad, GPS and a mission to save the world.
What is the Escape room and what is a City game?
An Escape Room is a fun activity where you enter another "world", and through puzzles and clues you work through the game. Along the way you will experience surprises and excitement, but do not lose focus - the game and the mission must be completed within an hour!
A City Game is an outdoor game that takes place in Skagen city. With the help of GPS geocaching, augmented-reality, Ipad, suitcase with aids and a secret mission, you will be guided around the city on an approximately 3 km route to solve puzzles. The game takes about 2.5 hours.
Our Games:
Escape Room - Command bunker
Recommended age: 14+ (12 years according to adults)
Number of players: 3-6 people (we recommend 4-5 people)
Playtime: approx. 60 min (+ intro 15 min)
Escape Room - Harry's Hiding Place
Recommended age: 14+ (10 years according to adults)
Number of players: 3-6 people (we recommend 4-5 people)
Playtime: approx. 60 min (+ intro 15 min)
City Game - Operation Mindfall
Recommended age: 16+ (13 years according to adults)
Number of players: 2-5 people (we recommend 2-4 people)
Playtime: approx. 2½ hours (+ intro 15 min)
Ability to play 2 teams against each other (4-10 people)
City Game - The Magic Portal
Recommended age: 14+ (7 years according to adults)
Number of players: 2-5 people (we recommend 2-4 people)
Playtime: approx. 120 min (+ intro 15 min)
Ability to play 2 teams against each other (4-10 people)
Read more at www.escapeskagen.dk - see you