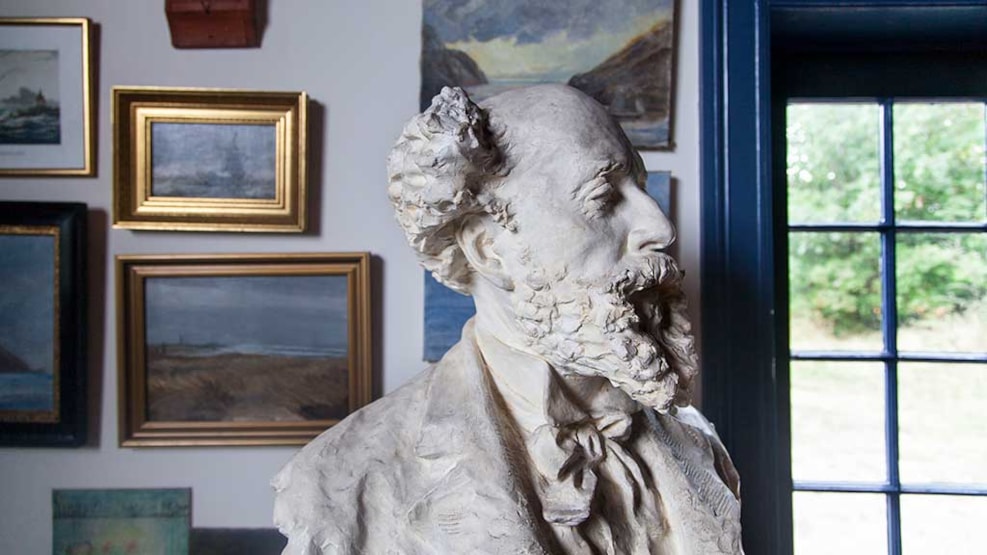 Drachmanns Hus
Drachmanns Hus is a house and studio museum dedicated to the poet and painter Holger Drachmann. 
The house contains around 150 paintings and drawings, as well as personal possessions like his plaited slippers. Drachmann was one of the first painters to visit Skagen in 1872. His appraisal of the place inspired many artists to do the same.
Drachmann was trained as a painter but was more successful as writer. Drachmann wrote countless poems and plays. In his time, Drachmann was the most celebrated Danish author.
It was only late in his life that Drachmann got his own home in Skagen. In 1902 he bought a former schoolmaster's cottage in Skagen and had it remodeled for as studio and home.
Drachmann was an eccentric character. He wore a long white beard and was often flaunting a wide brimmed hat and a cape. He had six children by three different women but was only married twice. Even with his great success, he was in constant financial trouble and had to rely on the benevolence of patrons and his publisher.
The interior of Drachmanns Hus is every bit as eccentric as its owner. Norwegian vernacular furniture is mixed with souvenirs from his many travels and personal memorabilia. His friends, the artists couple Marie and Peder Severing Krøyer participated in the interior decorating of the house and Marie Krøyer designed several pieces of furniture inspired by the Arts & Crafts movement.
Travel sustainably with bus and train in North Jutland
Getting around North Jutland with public transport is effortless. Plan you trip with bus, train or 'Plustur' on rejseplanen.dk.