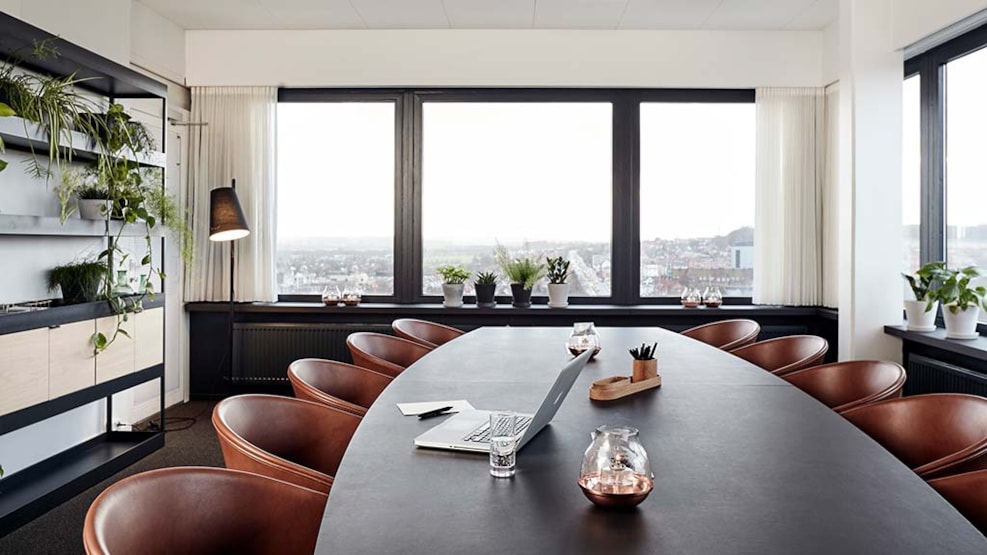 Green Experience
Comwell Hvide Hus - Venue
As an architectural landmark of Aalborg, Hotel Hvide Hus has stood tall over the beautiful Kildepark since 1669. The hotel neighbours Aalborg Kongres & Kultur Center (AKKC), and the hotel is located just a few minutes from the city centre
The hotel
Today the hotel is called Comwell Hvide Hus Aalborg, and it has recently undergone a thorough renovation. The hotel's atmosphere and decor encourages you to relax, enjoy yourself and socialise.
Conference and meeting facilities
Comwell Hvide Hus Aalborg has 5-star conference and meeting facilities. Their flexible rooms can be customised to meet your needs and desires, and they can be scaled from 25 m2 to 403 m2. Regardless of the size of your conference or meeting, Comwell Hvide Hus can help you.
If you want to host a memorable meeting, you should consider hosting it at the top of the city on the hotel's exclusive Panorama Floor, which is located on the 15th floor. Here, you can find a beautiful view of Aalborg and offer your guests a unique experience. 
All meeting rooms are equipped with modern IT and AV equipment.
Accommodation
Comwell Hvide Hus Aalborg has 198 newly renovated and well-appointed rooms, all with beautiful views of either the Limfjord, Kildeparken or Aalborg city. The many rooms are decorated in a homely yet stylish manner. The rooms are divided into 7 categories, allowing you to choose a room that meets your needs and desires.
Restaurant
Located right by the hotel is Restaurant Vesterbro, where you can enjoy several classic dishes with a twist. In the best Nordic style, Restaurant Vesterbro serves everything from simple and light dishes to a five-course menu. The chef is invested in using local organic produce.
The restaurant, which overlooks the vibrant city life, creates an intimate atmosphere by allowing guests to look into the open kitchen. The restaurant can accommodate 45 guests.
Other facilities
Comwell Hvide Hus Aalborg has a cosy lounge and lobby bar, as well as an outdoor terrace where you can take a break from your busy conference program. Additionally, there is an open office space that you are free to use, as well as free Wi-Fi, if you need to get some work done. The hotel also has a gym that you are free to use.
The hotel has a parking lot with direct access to the reception. However, there is also a large parking lot in front of the entire hotel.
Sustainability at Comwell Hvide Hus Aalborg
Comwell is Denmark's most sustainable hotel chain. With Comwell Care, the chain is concerned with sustainability as a central part of their values and goals. The hotel has a Green Key award, which means they have committed themselves to meeting a number of environmental requirements. Additionally, the hotel has been awarded the "Bronze Økologiske Spisemærke" (the Bronze Organic Cuisine Label) as well as the Re-food label, which portrays the hotel's hard work to minimize food waste and increase the use sustainable produce.