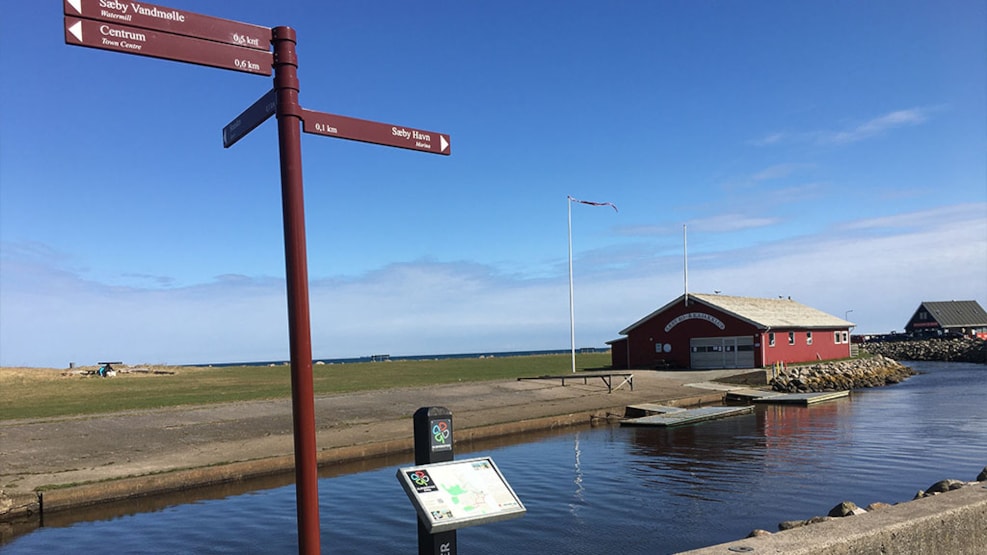 Blue Route
Kløverstierne is a national path concept that offers rich opportunities to walk, bike or run a measured and marked route while obtaining many good experiences.
A kløversti consists of four routes that all start at a centrally placed Kløversti pole. In Sæby, it is placed on Sæby harbour by the bridge over Sæby stream.
The Kløversti can also be found on your mobile phone via Endomondo.
The route follows the esplanade facing the north, turns past Nellemanns Have's vigorous diversity and the cool shade of Jernkilden, through the hilly Sæbygård Skov to the community centre "Skovlyst". Just follow the curves of the stream through the forest and back to the town along the old, small gardens to the outflow of the stream to the ocean.
This is a hike that the children will love.
Should we take a hike through the 'Ratholes'?
The stream of Sæby, the life nerve and green 'umbilical cord' of the town, combines the forest and the ocean. Since the Viking Age, the mouth has created a natural and important harbor in the northern Kattegat and the stream has delivered water and power to the stamp mill, tannery, dyeworks and the water mill in Sæby. A 'secret' place on the hike is the flyover with the ball-shaped openings and built-in echo – the 'ratholes' as they are popularly called. An almost magical transition from forest to town.
Sæby esplanade (2,4 km).
Nellemanns garden. Crab apple garden, forest and rhododendron garden etc.
Sæby Jernkilde, drawn by Plesner from 1887, where the town turned into a treatment town with health cures against for example anaemia.
"Skovlyst", forest pavilion, 1881. Now called SæbyScenen.
Sæby water mill, c 1800, roots in the 1600's.
Map over the Blue Route