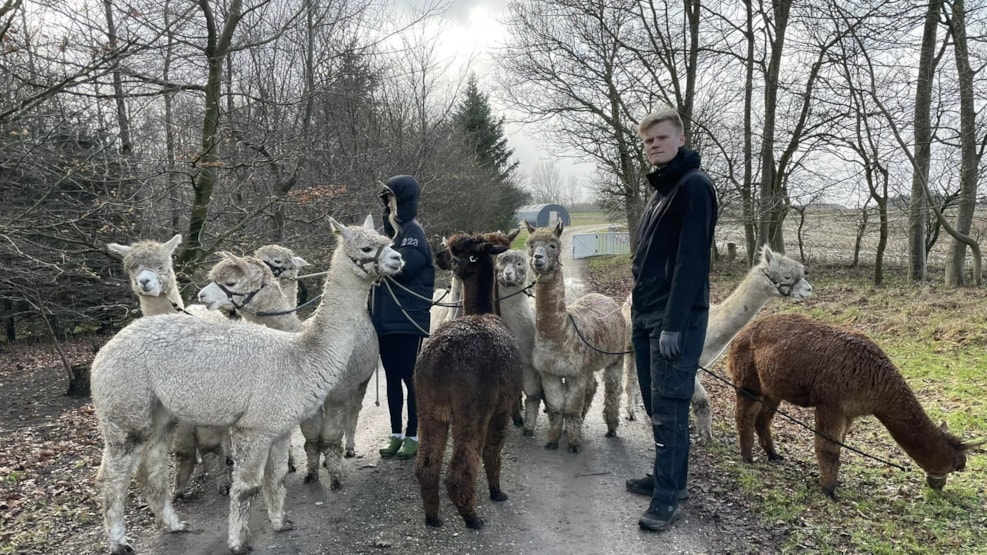 Alpacas of Fredly
Visit Alpacas of Fredly and meet Pluto, Royal Chase, Peron, Marco Polo, and several other alpacas.
Meet the alpacas
Owning one alpaca is out of the ordinary – owning 50 alpacas is something very special. Meet Pluto, Royal Chase, Jack and many of the other sweet alpacas on Walk'n'Talks, cozy farmvisits and much more. Keep reading to learn what Alpacas of Fredly has to offer.
Walk'n'Talk
When you book a Walk'n'Talk at Alpacas of Fredly, they guarantee an exciting and different trip. It primarily takes place in the beautiful surroundings of the farm and nearby forest in Brønderslev. The duration and length of the walk is approximately 1,5-2 hours and 2 kilometres. The walk is guided by Lise Drastrup herself, who will give an introduction and information about the cute and curious furry animals and answer all your questions.
The minimum for a Walk'n'Talk is two persons and the maximum is 8. If you wish to have a Walk'n'Talk with a bigger group you can contact Alpacas of Fredly for more information.
Farm Visit
Now it is also possible for you to see where the stars of the Walk´n´talk live! It is a guaranteed experience when you book a farm visit and meet the animals on their home turf.
During a farm visit at Alpacas of Fredly you will meet the animals in their usual environment, see where they live, and sleep as well as the fields they play and graze. You will be invited into their home and experience them up close, walk among them, feed them and speak with them.
Apart from the alpacas you can experience during the walk´n´talks, you can meet the temperamental ladies and their foals, the crias. If you want to see the foals/crias when they are
A condition for visiting the home of the alpacas is that you can stay calm, because the tour takes place at the animals very peaceful tempo.
Lunch in the Alpaca Garden
You can also book a lunch table in the lovely Alpaca garden and enjoy your lunch among the cute and curious alpacas. You can book a lunch table on Saturdays and Sundays in the period from June 1. to August 31.
Get a visit from an Alpaca
Apart from the walk´n´talks and farm visits, Alpacas of Fredly also offer an experience with the alpacas. They will gladly visit you with one or more alpacas and tell you about the lovely and interesting fur-bearing animals. Previously, they have visited nursing homes, Christmas Seal Foundation homes, and other institutions. Contact Alpacas of Fredly for more information and they can create an experience tailored to your needs.