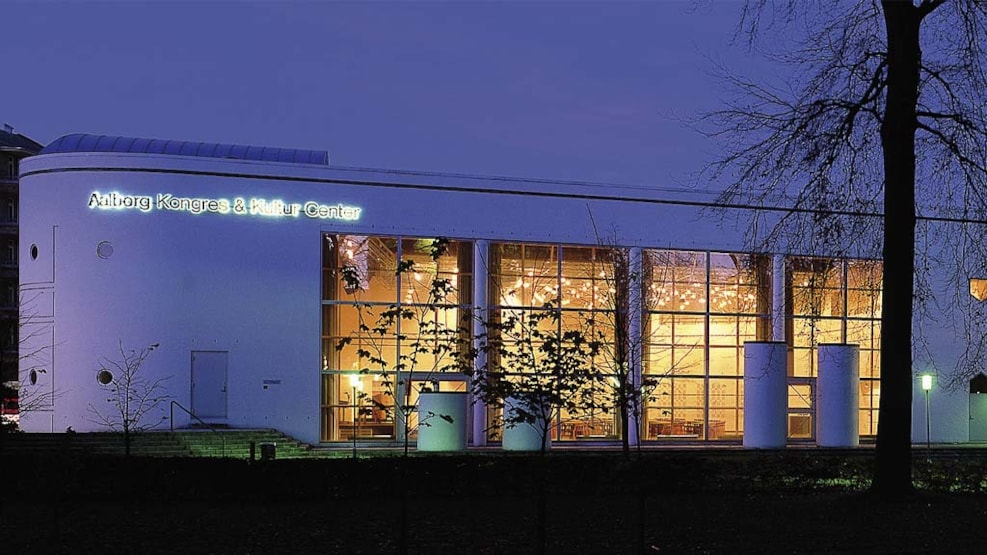 Aalborg Kongres & Kultur Center - Venue
Aalborg Kongres & Kultur Center (AKKC) is one of Scandinavia's largest and most flexible conference centres. With its many rooms, AKKC can be adjusted to accommodate your conference perfectly. The centre is also Denmark's only certified sustainable event venue, so if you would like to host a conference where the environment and people are in focus, Aalborg Kongres & Kultur Center is perfect for you
Aalborg Kongres & Kultur Center offers top modern, airy and light conference and meeting facilities with access to all the AV and IT equipment you might need. With a wide selection of conference and meeting rooms, all of which can be transformed according to your wishes, you are guaranteed to find the perfect setting for your conference at AKKC.
Restaurant
When hosting a conference or a meeting at Aalborg Kongres & Kultur Center, you and your guests can enjoy a culinary experience at Restaurant AKKC by MEST, which has a beautiful view of Kildeparken.
Other possibilities in Aalborg Kongres & Kultur Center
Other than conference and meeting facilities, Aalborg Kongres & Kultur Center also offers, amongst other things, a British pub with fun games such as darts and skittles. You can spend the breaks during your busy conference program relaxing here, or you could enjoy a cosy and informal evening here, networking with other conference participants.
AKKC – Denmark's first sustainable event venue
Aalborg Kongres & Kultur Center is Denmark's first and only event venue to have been certified according to the international standard ISO 20121 for sustainable events. This means that your reception or dinner at AKKC will be completed in a sustainable manner. Among other things, AKKC is focused on minimizing food waste, garbage sorting and recycling, as well as minimizing their use of water, heat and electricity in an attempt to minimise their own carbon footprint. Additionally, AKKC uses wind turbine power, as they are aware that their consumption of resources affects both the local and global climate.
Hotel Scandic Aalborg City
Aalborg Kongres & Kultur Center is directly connected to Hotel Scandic Aalborg City which houses 168 rooms. This means that you have the opportunity to walk directly from your hotel to the conference venue and back again, all without having to worry about the Danish weather.
The singing trees
From Aalborg Kongres & Kultur Center you can walk directly into Kildeparken, where you can explore the Park of Music and the singing trees. Here, world-renowned artists have planted trees in connection with their performance at AKKC. Under each tree, you can find a speaker that plays a few of the artist's hits. Take a break with a lovely walk around the park, listen to music and enjoy the fresh air.