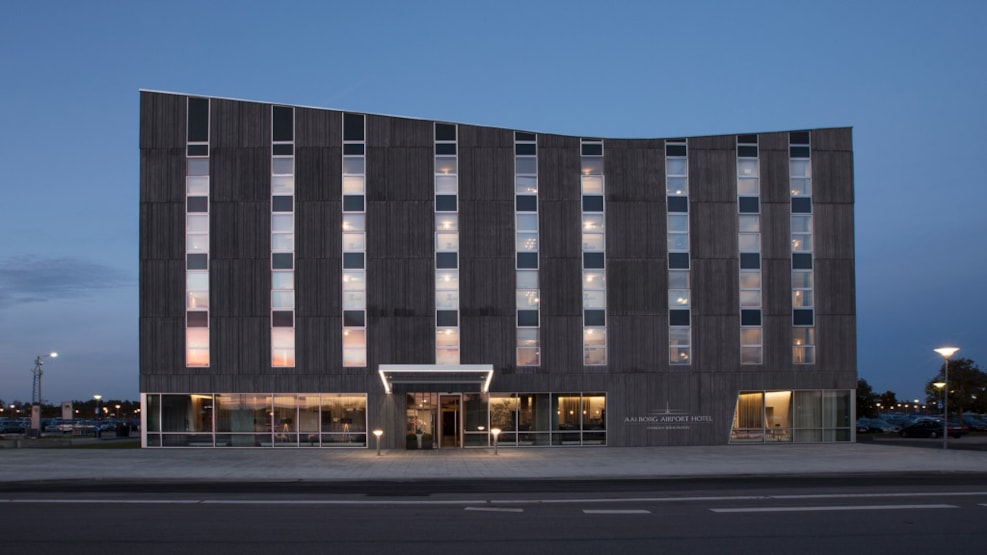 Green Experience
Aalborg Airport Hotel - Venue
Aalborg Airport Hotel, located just next to Aalborg Airport, has the world as its neighbour. Located just 6 km from the city centre of Aalborg, going to and from the airport is no problem.
Aalborg Airport Hotel is a modern and classy hotel which is run by the Bühlmann family. The hotel is open 24 hours a day, which means that you can check in and out of the hotel as soon as you arrive, regardless of the time. 
Conference and meeting facilities
Aalborg Airport Hotel has several modern and spacious meeting facilities. Here it is possible to network and host meetings, all while sitting in the lounge, enjoying the cosy atmosphere created by the fireplace. Alternatively, it is also possible to host a more innovative meeting at the high tables. There is free Wi-Fi throughout the entire hotel. The hotel's location right next to Aalborg Airport makes it easy to host international meetings.
Accommodation 
Aalborg Airport Hotel offers 64 modern and spacious double rooms, all of which are decorated in a Nordic style. All rooms have private shower and WC, TV, coffee and tea facilities, free Wi-Fi and blackout curtains.
When you stay at Aalborg Airport Hotel, you can start the day with a delicious breakfast buffet that consists of many different organic elements. You can enjoy the breakfast buffet every day from 5:00-9:00.
Restaurant
There is a restaurant at Aalborg Airport Hotel that serves delicious food made from local produce, most of which is organic. The restaurant is open every day from 17:00-21:00. Light, cold dishes are served every day in the hotel's lounge from 11:00-23:00. Should you become hungry during the night, the hotel has a snack menu from which you can order between 22:00-7:00.
Other facilities/possibilities
Aalborg Airport Hotel has a cosy lounge with a fireplace, restaurant and bar, so there are many opportunities for you to spend some time with the others conference participants once the day's programme is over. If the weather allows, they can also sit outside on the hotel's lovely roof terrace.
Sustainability at Aalborg Airport Hotel
As one out of only three hotels in North Jutland, Aalborg Airport Hotel has acquired the Organic Cuisine Label in Bronze. This means that 30-60% of the hotel's food is organic and comes from sustainable sources. Additionally, the hotel utilises a linen distributor (DFD) which possesses several ISO labels. These labels reward the fact that, to a large extent, the handling, cleaning and transportation of products is eco-friendly and sustainable.