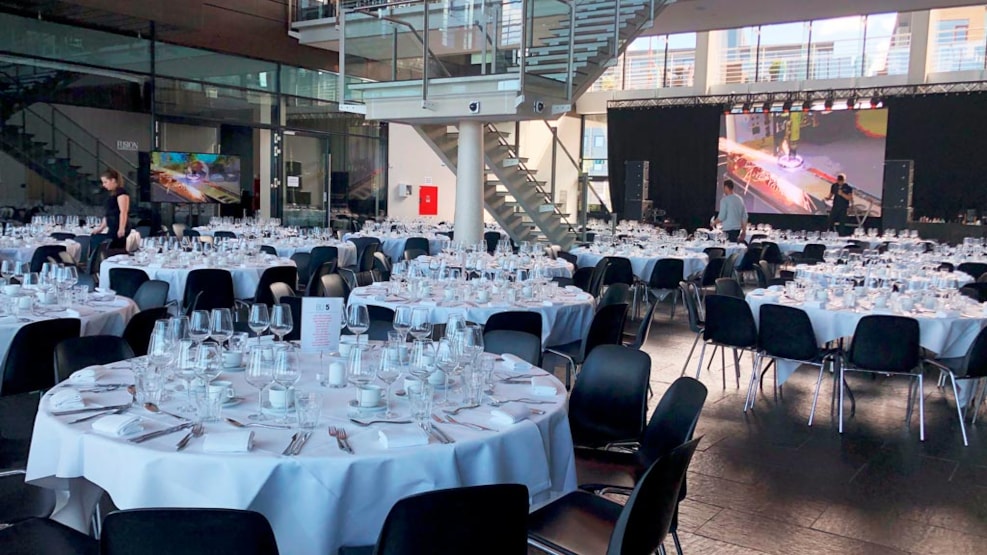 Restaurant FUSION - Venue
In beautiful settings at one of Aalborg's perhaps best locations right by the Limfjord you can find Restaurant Fusion, which offers culinary experiences from the European and Asian kitchens
The restaurant's name refers to the fusion between the French and Asian kitchens, where fresh, primarily Danish and Asian, produce creates the foundation for innovative creations. At Restaurant FUSION, you can discover newly interpreted creations that will give you a completely new experience, just like the restaurant's luxurious and open frames that create a fantastic space for exclusive culinary experiences.
The restaurant's large glass panels allow for a beautiful panorama view of the Limfjord, as well as a beautiful light in the restaurant, emphasising the wooden floors and black and white furniture. Restaurant Fuseion offers culinary experiences from one of Aalborg's finest kitchens, and it is important for the restaurant's team to give guests a special experience that they will remember, which is why the service is a crucial component of experiencing Restaurant Fusion.
With a conference reception or gala dinner in the beautiful surroundings of Restaurant Fusion, you are guaranteed a gourmet experience that will pamper all your senses. The menu for the gala dinner will be customised to meet your wishes and your guests' needs. Fusion will make sure that the dishes compliment the occasion and create the perfect atmosphere with an appropriate wine menu to compliment the food.
Restaurant Fusion has an exclusive lounge where you can enjoy a glass of champagne or a classic cocktail with the other conference participants for an informal get-together.