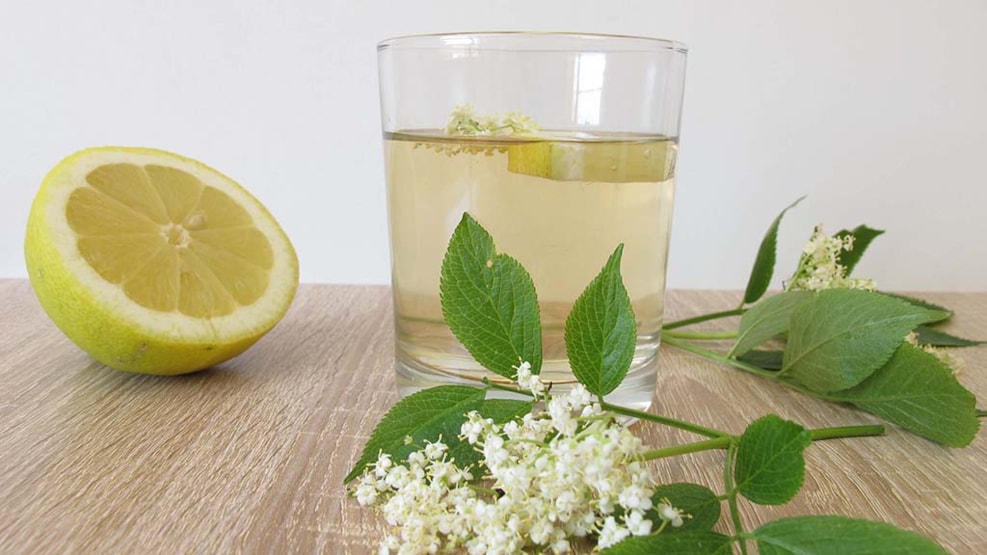 Læsø Hyldeblomstvin og Urtesnaps
Læsø Hyldeblomstvin is a sweet dessert wine ("Danish sauterne"). It tastes of summer – just like homemade elderberry drink – but made as wine gives it a twist, so that Læsø Elderflower Wine is completely its own. Serve chilled (5C) either diluted with sparkling water or undiluted but with a lump of ice. Either way, every mouthful tastes like the angels are singing.
Læsø Elderflower wine
Læsø Elderflower wine is made from carefully picked elderflowers on our own land.
The elderflowers are added to water, yeast and sugar. Nothing else. No sulphites, yeast stop or the like have been added. The raw juice is stored in barrels, and the juice is then given plenty of time to settle and finish fermenting itself (forming alcohol).
Only umbels with many flower buds are picked. It happens in June. The trees are looked after daily during the flowering period. Elderflower wine of the vintage in question is finished and ready to drink after approx. 1 year in barrels.
Alcohol volume % develops to be  11.5% - 12.0% in the finished wine.
Læsø elderflower wine - serving suggestions
Dessert wine: Læsø Elderflower wine can be served undiluted (although preferably with a lump of ice) with coffee or dessert.
Aperitif: Excellent as a long drink on a hot day on the terrace (elderflower wine + Danish water + ice cubes) - or as a drink all year round (elderflower wine + ice cube + gin/vodka/elderflower schnapps).
Welcome drink: elderflower wine + sparkling water + ice cube + lemon slice. Possibly. + a little vodka or gin.
For particularly festive occasions, the glasses could be given a sugar rim. (A little water is poured into a saucer and a little sugar into another saucer. Dip the edge of the glass first in the water and then in the sugar. Now the glass has a sugar rim. The glasses can be ready in the freezer with the sugar rims until they need to be filled).
Læsø Elderflower wine - sales points
Læsø Hyldeblomstvin can be bought via www.hyldeblomstvin.dk or in four shops on Læsø:
Inken, Læsø, Kongevejen 29, Vesterø
DagliBrugsen, Vesterø
SuperBrugsen, Byrum
and
Huset Palsgaard, Østerby.