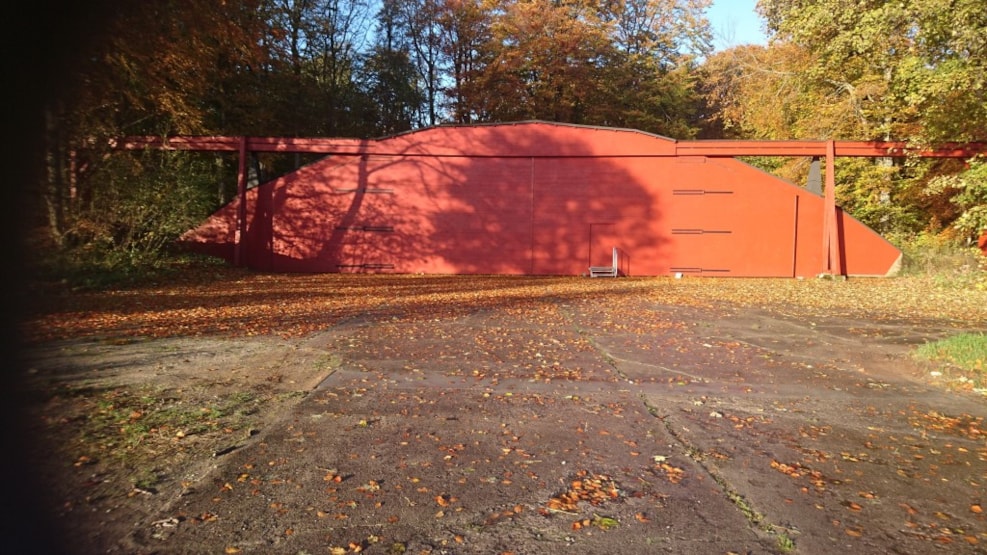 Hangar at Knivholt forrest
The story of a German aerodrome and refugee camp.
Just on the outskirts of Frederikshavn is an authentic memorial from World War II - a German hangar, which has been beautifully restored and appears as it looked during and just after the war. The hangar is open to the public.
Inside the hangar, the exciting story is told about the role of the hangar and the area during and after the war. During the war the Germans established a base for German Messerschmitt 109 fighter jets and a glider school. After the war, there were two large refugee camps in the area.
Frederikshavn's location was one of the reasons why Germany occupied Denmark during World War II. The Germans should have access to the waters around Norway and would therefore like to use the airport in Aalborg and the port in Frederikshavn. The Germans established themselves in Frederikshavn with approx. 4,000 soldiers, 350 bunkers, airfield and hangars.
German airfield
The airfield was established by the German occupying forces in 1940. During the war, the airfield was a base for Messerschmitt 109 fighter aircraft (ME 109) and for a glider school. The exhibition tells via posters and effects about the airfield, the planes, the hangars, the air traffic control, anti-aircraft guns, the logistics and about the everyday life of the German soldiers who served at the airfield. In addition to local effects, there are parts from a crashed ME 109 that was found in the spring of 2017 in North Jutland.
Refugee camp
In 1945 - 1948, the hangar was part of a refugee camp that housed up to 7,000 German refugees. They were part of the approx. 250.000 Germans who fled from East Prussia to Denmark at the end of the war. They lived behind barbed wire fences for up to 3 years after the war. Without access to the surrounding community and guarded by Danish freedom fighters and soldiers. In the hangar there is a copy of a "refugee room", clothes, suitcases and personal belongings that the refugees brought to Denmark.
In addition, the exhibition tells about the time after 1948, when there was a civilian airfield in the area, which also housed a glider club.