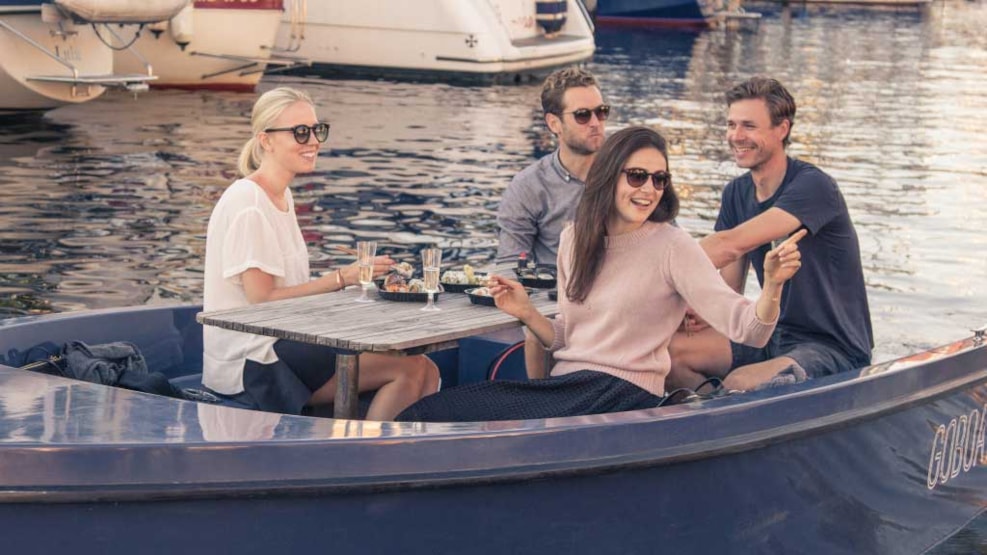 GoBoat
GoBoat ensures a special memory with your friends and family. From the boat, you'll enjoy the city from the waterfront. Each boat fits 8 people and certification or sailing experience are not required.
Experience Aalborg from a completely new perspective and explore the harbour in your own pace. Whether it is a birthday, company event, date or bachelor party, GoBoat allows you to experience it in a different fashion. GoBoat is especially suitable for quality family time and the kids are safe with the on-boat life vests.
Maritime picnic
When renting a GoBoat, a unique experience in beautiful surroundings is guaranteed. In the middle of the boat, there is a picnic table, which can host comfortable moments with good food, wine and chatter - all while Aalborg and Nørresundby slowly drift by. The soundless boat engine ensures a calm atmosphere, and the frame is set for undisturbed experiences with the lucky few that you have invited. As the captain of your own ship, you control where to go. You can also let yourself be inspired by our GoBoat Aalborg-guide, which identifies the city from the waterfront. The guide will be delivered to you when you go to sea.
Focus on sustainability
GoBoat has been developed with the environment in mind and offers you a sustainable experience. GoBoat's wish is to treat the surroundings with respect and keep the harbour pure and untouched by the boats. This is done by using environment friendly electric engines, which are recharged by solar panels.  
For further information or book your own GoBoat tour, click here. The sea is calling!