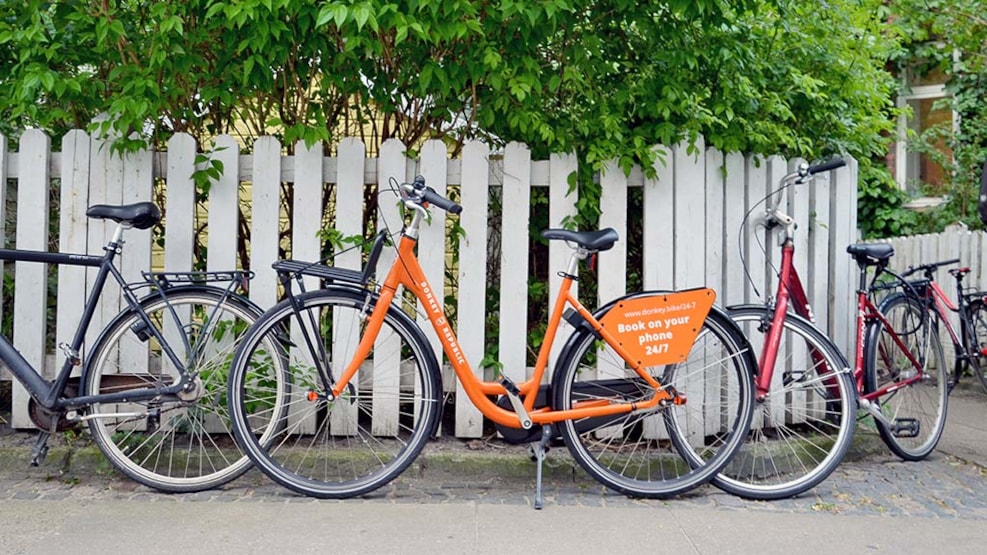 Donkey Republic Bike Rental
At Donkey Republic, you can rent bikes at any time of the day, all year round, and experience Aalborg and the surrounding areas on two wheels. All it takes is downloading the app and you're well on your way.
Renting and returning a bike has never been easier with Donkey Republic because, with their app, you can find one of their many bikes near you. Start the timer and use the bike as much as you want. You only pay when you return the bike, and the longer you use it, the cheaper it gets. In Aalborg city alone, you will find more than 20 of Donkey Republic's locations with bikes.
Cycling experiences in and around Aalborg
A greener transport option is for you who like to take the bicycle to get around the streets of Aalborg. Once you have your bike, the possibilities are endless. Cycling in the city centre is a great way to get around -just like the locals- and discover the centre as the city is bicycle-friendly. Just on the outskirts of the centre, you will find that Aalborg is surrounded by wonderful nature which also has great paths making it a bike haven. You can, for example, cycle the long trip through Østerådalen, or head North to Hammer Bakker where you can park your bike by the car park and walk one of the forests three marked routes. Another suggestion is to take the ferry to the small island of Egholm, which is located in the Limfjord just outside Aalborg.
During the summer, it is an obvious opportunity to cycle on a longer trip East to Bisnap Beach by Hals or West to Nibe Camping and take a dip in the pool. On the slightly cooler days in spring and autumn, it is recommended to visit one of the many art workshops in Aalborg Fjordland or enjoy a meal at one of Aalborg Coast's many cosy restaurants. 
Read more about Donkey Republic...